Roger M. Wilcox's Champions® characters

Champions® is, quite simply, the best role-playing game ever to emerge from the mind of man. Period. You are not worthy to be in its presence. Bow down and worship its unapproachable greatness, mortal scum!
Over the decade or so I played the game (1980s and very early 1990s), I wrote up character after character for it. At the end, my stack of character sheets grew to over two inches thick. Below, I present to you the cream of my crop.
My Heroes
Tracer: This was the 3rd character I ever created for Champions. I first wrote him up all the way back in 1981. He's been through several revisions since then; the character sheet here is the latest, written for the 5th Edition HERO System™ (the role-playing system Champions uses). I liked the character so much that I also wrote a novelette about him in 1982 and now use "tracer" as my preferred online nickname. A 1985 rewrite of the novelette is available on my Tracer novelette page. He also has a theme song.

Havok: This is a "me character" — I started with a flattering version of myself, and added superpowers vaguely based on Marvel Comics' Havok (my favorite character from the X-Men). I played this character almost as much as I played Tracer, and sometimes even played both characters at the same time. See also the beefed-up, 250-point version of Havok ("150 extra points, and you put them all into your energy blast?!").

The Generic Hero: Another "me character." In this alternate-universe version of myself, I used to be a member of the Guardian Angels until the Santa Monica chapter disbanded. Not to be deterred by this minor setback, however, I fashioned myself a costume (and a shield) patterned after the generic items at Ralphs supermarkets. You get the same quality heroics without paying for the fancy costume! See also the higher-powered bionic version of the Generic Hero.

Mister Wonderful: Yet another "me character," this time for a low-powered Heroic campaign (where everybody had normal characteristic maxima automatically). I got the name from an old Saturday Night Live sketch called "The Interesting Four."

Infra Man: I made up this character waaaaay back in 1973 when I was a wee lad of 8 years old. The name, of course, was a play on "Ultra Man." I wrote a tongue-in-cheek novelette about Infra Man's origin and adventures, which can be found on my Infra Man novelette page. I also wrote theme music for him, and wrote up a lower-powered version of the character when he was a youngster, named Infra Boy.

Moon Man: The first Champions® character I ever created — back in the days when the obscure first edition of Champions® was the only edition.

Hay Man!: The second Champions® character I ever created.

Rock Man, and his arch-nemesis, Mutant (with his ultimate juggernaut robot Disgusting Brick).

The Ray: My childhood version of the Flash (with some later modifications), and his arch enemy, the Speed Demon.

Jackie Sodium: Once only Jackie Albertson, a chemist like you or me. At will, he can shift his body from normal flesh-and-blood to solid metallic sodium, with all the drawbacks that entails.

Bowling Ball: I created this character long before the Mystery Men movie was made, so don't go thinking it was based on The Bowler's father, you hear? His faithful sidekick is Rubber Band.

Wo-Man: Aliens abducted Steve Rorkiel and imbued him with the power to change into a superhuman woman, so that he could do their bidding. Steve, however, was obsessed with the will to be free, and refused to do their bidding, thus earning the aliens' ire for all time. His normal male identity has a girlfriend, but shortly after trying out his superhuman female identity, she acquired a boyfriend too. Whenever her alien abductors reappear, she will usually team up with Octoplex to thwart them. Her arch-enemy is the insane supervillain Projector.

Anti-Projector: Allison Compton was friends with Janice Moornic, Projector's (now late) wife. When Arthur killed Janice, Allison swore to stop him at any cost. Discovering Projector's origin, she snuck into the power plant and exposed one index finger to the same 4-dimensional matrix that Arthur had got his hands caught in. Her finger can now emit no-endurance killing attacks of white energy. She spends most of her time hunting down Projector.

Ice Maker: Frequently hangs out with his buddy, Carb Ferris, who copied his own brain patterns into Metal Mind (and, later, into Metal Mind II).

Ninja Mouse: Parker was a mild-mannered mouse until one day, when cornered by a cat, he "snapped" and a deadly ninja personality came out. He came back to his senses hours later, unaware of his alter ego, which can come to the fore again any time he's under stress.

The Chrome Fighter: Max Howzer takes care of the seamy side of the streets. Grrrr. Of course, he does it in dazzling, chrome-plated, rocket-propelled armor — no reason you shouldn't look good when you're taking out the trash. Grrrr. His arch-enemy is the megalomaniacal Tesla Coil.

Tuning Fork: A sonic-wielding superhero whose powers don't involve yelling, for a change. I wrote a piece of electronic music about her back in my UCLA days.

God: Just your average high-powered masked crimefighter in tights with a cape and a big "G" on his chest — who happened to name himself after the most powerful mythological character he could think of. Plus, the whole calling-down-lightning-from-heaven bit always impresses the natives.

Infinity Man: His name says it all.

Iron Side: Unlike billionaire industrialist Tony Stark, young Tony Asterisk could only afford to build half a suit of powered armor. The left half, specifically. Interesting things can happen when he engages his boot jet (singular).

Meter Maid: Lovely Rita is an ordinary parking enforcement officer by day, a vigilant fighter for the metric system by night. Just don't go using any British/Imperial units in front of her, or she'll pummel you with metersticks that shoot out of her sleeves.

Normalman (no relation to Valentino's creation of the same name), and his DNPC Phoenix Firebird

Unbelievable Man: What would you do with four million Experience Points? And, for that matter, what would you do with 1.2048 x 10307 Experience Points? (Thus answereth Unbelievable Man 3.012 x 10300.)

Slinky – Private Eye.

Plagal Cadence Man, whom I thought up during my undergraduate stint at UCLA, where I majored in — surprise, surprise — music composition.

Unic: Everybody's favorite unicorn Swazibot (well, the only unicorn Swazibot) from Gaea's Rising.

A typical Freedom Fighter Infantryperson in powered armor, from the (still unfinished) novelette Areopagiticon.

Mister Inventions, who's designed for a Heroic (rather than Super-Heroic) campaign, and his professional arch-rival, the Skeleton Monster. Read all about 'em on my Inventions story page.

Smokey the Bear: Okay, so this character isn't exactly an original creation. Just don't play with matches around him, m'kay?

Density Mage: Todd had a character named Destiny Mage. Once, I misread his name as Density Mage, and I thought the name was just too good to pass up.

Feuergeist: Dan Bond is an FBI agent who usually works alone. Very few know of the latent power he has. Twice each day, he can transform his body into a burning, moving, non-speaking blob of hot energy. He is desolidified in this state, and can remain in it for as long as he desires or has the endurance. Otherwise has all normal agent's abilities. Power is mostly mental.

Fearless: Dan Bond's brother Robert. Gadgets, but no powers.

The Liberty Man, from the story of the same name. Operates in a distant, quasi-dystopian future.

Ant: Alan Rasmussen, entomologist and nuclear scientist, was working with a predacious ant and a transmuter similar to the one that triggered Feuergeist. By accident, the transmuter destroyed the ant and "projected" it onto Alan's body, giving him the ant's powers. He now has twice the strength of Spider-Man and a damage-resistant exoskeleton, can cling to walls, and crawls on all fours at speeds exceeding 10 meters per second (22 mph). Carefully guards his secret identity.

Plagma Man: Boring origin story. Dan Gotlieb has Acrobatics and a "plagma" energy attack he can launch from the paired index and middle fingers of one hand. (Which hand he uses seems to switch back-and-forth depending on who's drawing the comic book that day.) This plagma glows a yellow-white, and in one particularly gruesome mental image I had, would splash right through his target's head, then curve around a couple centimers away from said head and splash through the same head again from the side. Over and over. While making a sound like a raspberry every time it smashed through skull and brain.

Super Mercenary: 22 487 238 640-M from the never-completed story "Halo of Gold". Operates in a distant, war-torn future. Has some kind of ill-explained energy bazooka on a rail built into his armor, which he can slide onto his back when not in use and very quickly pull into position, but his main power comes from a gold ring he wears as a headband, which comes from an even more distant future.

Spiderman: I know what you're thinking. This is a Marvel comics character that first appeared before I was even born, right? Well, this Spiderman comes from a dream I had, and his name isn't Peter Parker, dog gone it, it's John Adrian! You see, a group of extraterrestrials watched several Spider-Man TV shows, and decided to make a Spiderman of their own. Sending down an electronic spider to John Adrian, their chosen victim, the spider bit, wandered off, and teleported back to their starship. This electronic alien spider bite endowed John with a body-exchange ability that could switch him with a Spiderman android. He has all the powers of the Marvel Comics Spider-Man, plus damage resistance, thought-controlled web shooters, and about one-and-a-half times normal mass — so long as he remains in his android form. His android face looks hideous under its mask. The transformation sequence when turning back into normal John Adrian involves a hilarious pistoning-rotating of his android head for a second or two, followed by a "poof!" which may or may not include a brief smoke cloud. His boss at the Daily Planetary Bugle frequently slams his fist on his desk and shouts "Adrian! Where's my pictures?!"

Psycho Man, from the story Messiah to Super-Human. Very powerful, as I'd bought into the whole "power of the mind is limitless" mythology at the time I wrote said story.

Happy Man: Brian Reich, master of orgone and cosmic energy. Very high comeliness and presence, force field, light telekinesis, hard-to-control lightning, healing useable on others, high Ego Defense (called Mental Defense as of 5th Edition).

Captain Marble: A real long time ago, in a region of space real far away, six intellects escaped the confines of the Krapton cloud in a 6 cm diameter glasslike ball which looked suspiciously like a great big marble. Billi Batty found this hooked to a belt which had an inscription written on it which summoned the intellects — Arthur, Muchael, Suzan, Hera, Alice, and Zack. Put their initials together and what does it spell? AMSHAZ! When in her Captain Marble form, she has all the powers of a cliché super-hero. (NOTE: Early scribblings indicate that Billi Batty was originally going to be named Andrea, probably Andrea Batson.)

Physics Woman: Diane Jason majored in physics and martial arts in college, though her knowledge of martial arts techniques is limited to its pure form (a la The Liberty Man). High INT, Find Weakness, above average STR, can convert velocity and mass into directions of force in her head.

Glow Beast: Norman Mordred was a fusion freak who got exposed to a small, controlled D-T reaction. The fusion exposure changed his body ever-so-slightly on both the chemical and the subatomic scale. Now, at almost impossible-to-control intervals, he turns into a glowing, energy-emitting beast which isn't completely human — the Glow Beast. This change is triggered by subconsciously wanting it to happen, whether he consciously feels it's in his best interest or not. Think the Hulk, except with energy power instead of physical power. Incredibly high Energy Defense, very low INT when transformed, hard-to-control Energy Blasts (with the same appearance as Plagma Man's blasts) coming from any point on his whole searing body. That's why Norman wears asbestos pants.

Magnetic Bottle: Jerry Plasmo was caught in the same "accidental" fusion reaction as was Norman Mordred (Glow Beast, above), only he was in much more direct exposure to the blast. His body was utterly destroyed, but his undying intellect, his energy of existence, would not let his physical existence go that easily. It grabbed onto a large amount of fusing deuterium and tritium, and held it in an electromagnetic field that vaguely conformed to the shape of his former body. In all the confusion, the unnoticed Glow Beast had already left before the reaction had stopped. Every measuring device in the complex was then trained on the humanoid mass of fusile plasma, revealing it to be kept in that shape only by an intense, strained, highly unstable electromagnetic field. The energy was immediately encased in a spherical magnetic bottle while a more fashionable humanoid magnetic bottle was constructed out of titanium. The guidelines for its construction were based on the discoveries of the true nature of the energy, and before long the stuff was transferred into the operational mobile magnetic bottle. The "armor" (as it was termed) could carry on a reasonable number of human functions (speaking, moving, etc.) on command from the energy's intellectual center. It can also release the fusion energy through sphincter pores on key positions of the armor; these Energy Blasts are generally Marvel-comics-yellow in color. If he needs to fire a big blast, he opens the 10 cm wide aperature on his head (where a human's eyes would be). The mobile magnetic bottle, like Tree's body, has no genitals, but this doesn't bother Magnetic Bottle as much as it does Tree. After all, what could he expect? Once a week or so, he must "eat" (replenish his deuterium-tritium supply). Has a little Flight, Armor (naturally), and 0 END Energy Blasts of extreme intensity.

Giant Robot: Disguised as Joe the Android, Joe the Android accidentally hit a button marked "Do Not Press" while in the same room with a gigantic Egyptian robot. As he was blasted with Delta ray radiation, his only thought was "Oh no! I'm having an origin! I hope I don't turn into a super hero or something!" Unfortunately, he did. His brain made a link with Giant Robot's body, and now every time he puts his hands on his hips and then hits his fists together, a body exchange takes place. (Look up "Body Exchange" in The Dictionary of Roger's Super Hero Terms, which should hit the bookstands sometime on the other side of eternity.) Giant Robot has an Energy Blast identical in every way to that of the Ultra Man from the old live-action TV series, and Force Field (or Force Wall) generators located where the "real" giant robot would normally have finger missiles. Both Giant Robot and Joe the Android have holographic projectors [sic] in their eyes. Giant Robot has two serious drawbacks: First, every time he moves, he has to make square clanking motions just like the "real" giant robot. Second, his body consumes tremendous amounts of power, partly because he must continuously play the theme from Voyage Into Space at a high volume level; thus, he must change back into Joe the Android before he runs out of energy. Secret Identity, normally works with Rock Man. Flight packs in both identities.

Infintesseract: An entity born of light and gravity. After being spewed out of a white hole (which some scientists believed was what a quasar was, before the discovery of galactic central black holes), the extra-universal light created formed a living matrix, and eventually attained a rough form of intelligence. Over the centuries, a good quantity of its light condensed out into matter, greatly reducing the living matrix in size but at the same time giving it some tangibility. Though it was partially material, Infintesseract still retained the ability to travel at (or at least near) light speed. It soon deduced the secret to making its own form go multi-universal — spanning multiple universes in addition to our own — and thus exceed the speed of light by over three hundred million times. The only reason it couldn't travel with infinite velocity was that this would require that it went extra-universal, at which point it would leave this 3-D universe altogether, and most likely never return. This might not have been so bad, were it not for the fact that Infintesseract had gotten used to being made of matter and was also afraid that leaving the universe might destroy its living matrix altogether. Soon, it sought out a place where other intelligent creatures existed, and the first one it encountered was Sol III, more commonly referred to as Earth by its inhabitants. By the time it reached the blue-green planet, its energy-to-matter conversions had leveled off, and it then "stood" at approximately 1.4 meters tall, a height which it to this day retains. It quickly learned to communicate with the humans, among other things. Flight, extremely high speed, high INT, Life Support in almost any environment, Faster-Than-Light Travel.

Windboy: A tragic figure from the future, doomed to relive the same 17-day slices of time over and over again. Like Avatar Aang, except he can't make long-term friends. Read his story here.
The Transmuter
Several of the superheroes and supervillains listed on this page have their origins tied up with a device known simply as the Transmuter. Here are my notes about this device, originally written in pencil in the early 1980s:
The Transmuter was once a privately-owned device, used for scientific purposes only. At first, it was used to increase the masses of elements to their next highest equivalent on the periodic chart, but was later changed for use only in the transmutational energy's pure form as an accelerator of a sort. When in use as an actual transmuter, Jim Stallion was bathed in its emissions and thus was turned from carbon to silicon. Fortunately, this wasn't discovered until after it had been shut down as a "fusion machine" and put into use as a simple particle-and-energy accelerator.
It was this device which later made its claim to fame by proving once and for all that neither matter nor energy could pessibly exceed the speed of light in this universe. Later, however, entomologist/nuclear physicist Alan Rasmussen exposed his predacious ant to the energies, which had become a popular use of the device, and a safety lock was broken, allowing Alan to be blasted with the accelerator and the ant for a couple of seconds. Ant's origin was surreptitiously discovered by Dan Bond who, while investigating the Transmuter, decided to bathe in the rays for a fraction of a second to allow him to command his latent but discovered powers.
Once Ant's and Rock Man's origins became publically known, however, super-hero-mania broke out, and literally hundreds of people forced their way to the business end of the Transmuter, illegally, just to "get exposed to the power." It is not known whether or not any of the exposed gained any super-human powers, but many of them ended up badly scarred from the experience, and many more ended up dead. The National Science Council saw this as just grounds to stop all experimentation with the Transmuter, and soon it was shut down and disassembled. Key components of the Transmuter are on display at museums across the country.
My Villains
My Villain Groups
T.H.E.M.: The Harbingers of Eternal Mankind. (Formerly the Headquarters of Eternal Mankind. We think.) Organized by Norman Dockran, who later dubbed himself "Mister Eternal," this ruthless organization seeks to perfect humanity by phasing out the frail, transient human body. Here's a typical agent in T.H.E.M.'s Perpetual Army, and here's one of T.H.E.M.'s most frightening villains, Nova, after whom Mr. Eternal patterned his Novites.

M.A.C.R.O.N.: The Malicious And Criminal Really Ornery Nasty people. Or maybe they're the Mean Antagonistic Creepy Raiders Of Nations. Or the Murderous Anti-Civil Rebels Out of your Nightmares. Or something. Only M.A.C.R.O.N. knows what M.A.C.R.O.N. stands for, and they aren't telling anybody. Here's a character sheet for a typical array of M.A.C.R.O.N. agents. One of the high-powered villains they've managed to team up with is codenamed Laser due to his coherent light powers. This allows those savvy with the board game Cosmic Encounter to say "Laser and MACRON? Uggggh!"
Michael Gersten's Heroes
(NOTE: If you got to this webpage through a search engine because you are trying to reach Michael Gersten, a.k.a Keybounce, his current email address is keybounce at gmail dot com.)
Todd's characters
My Heroic Groups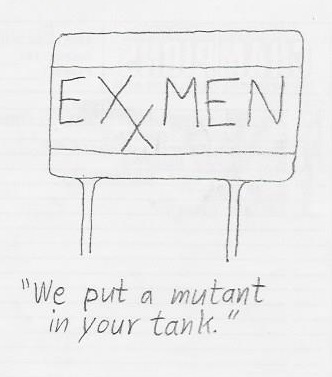 ---
Click here to go to Roger M. Wilcox's home page.
Send comments regarding this Web page to: Roger M. Wilcox.