Stairway of the Stars, 1982
"Music: A Sound Investment"
Daryl Dragon, Music Arts Award Recipient
James R. Jorgenson, guest conductor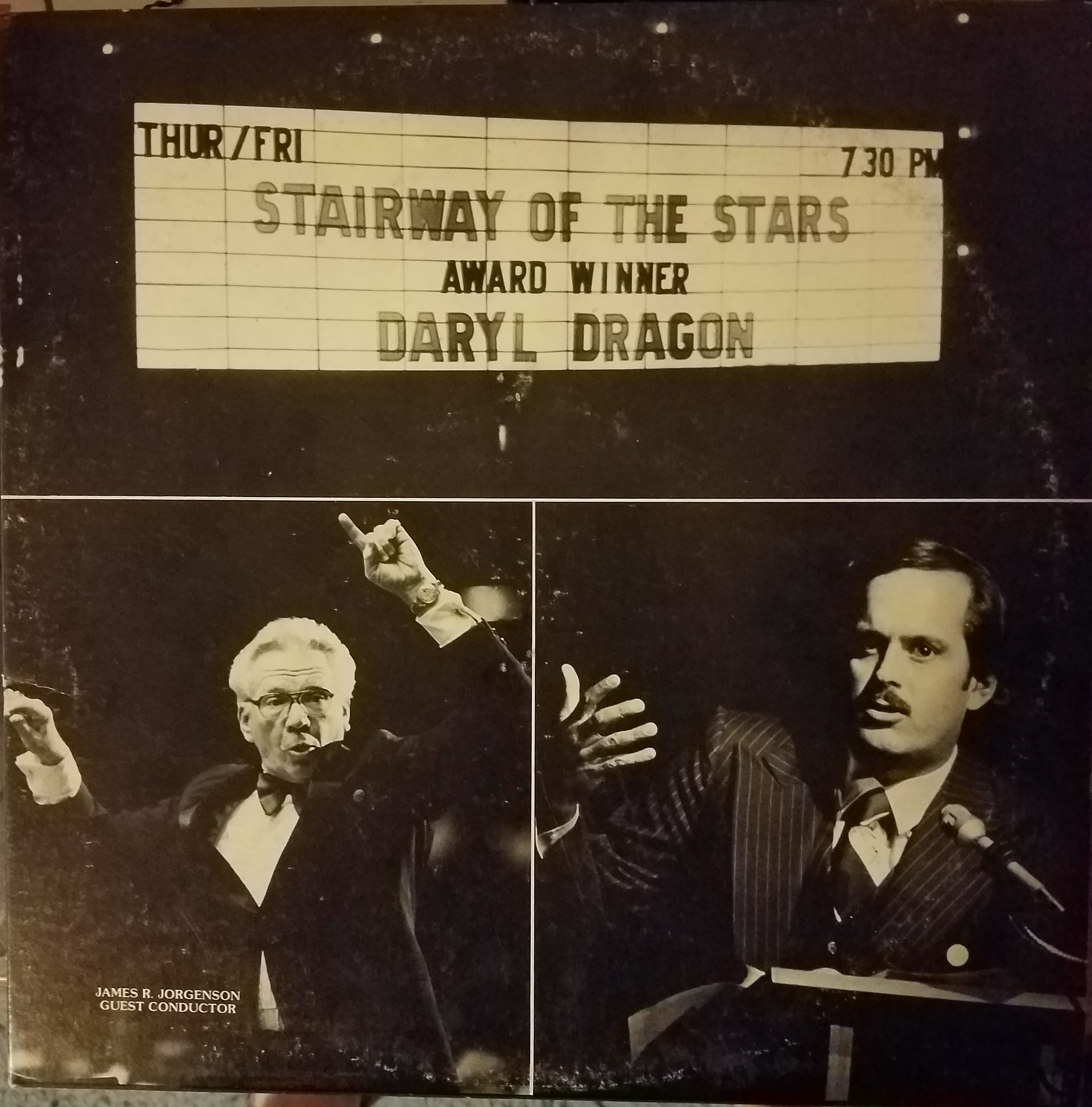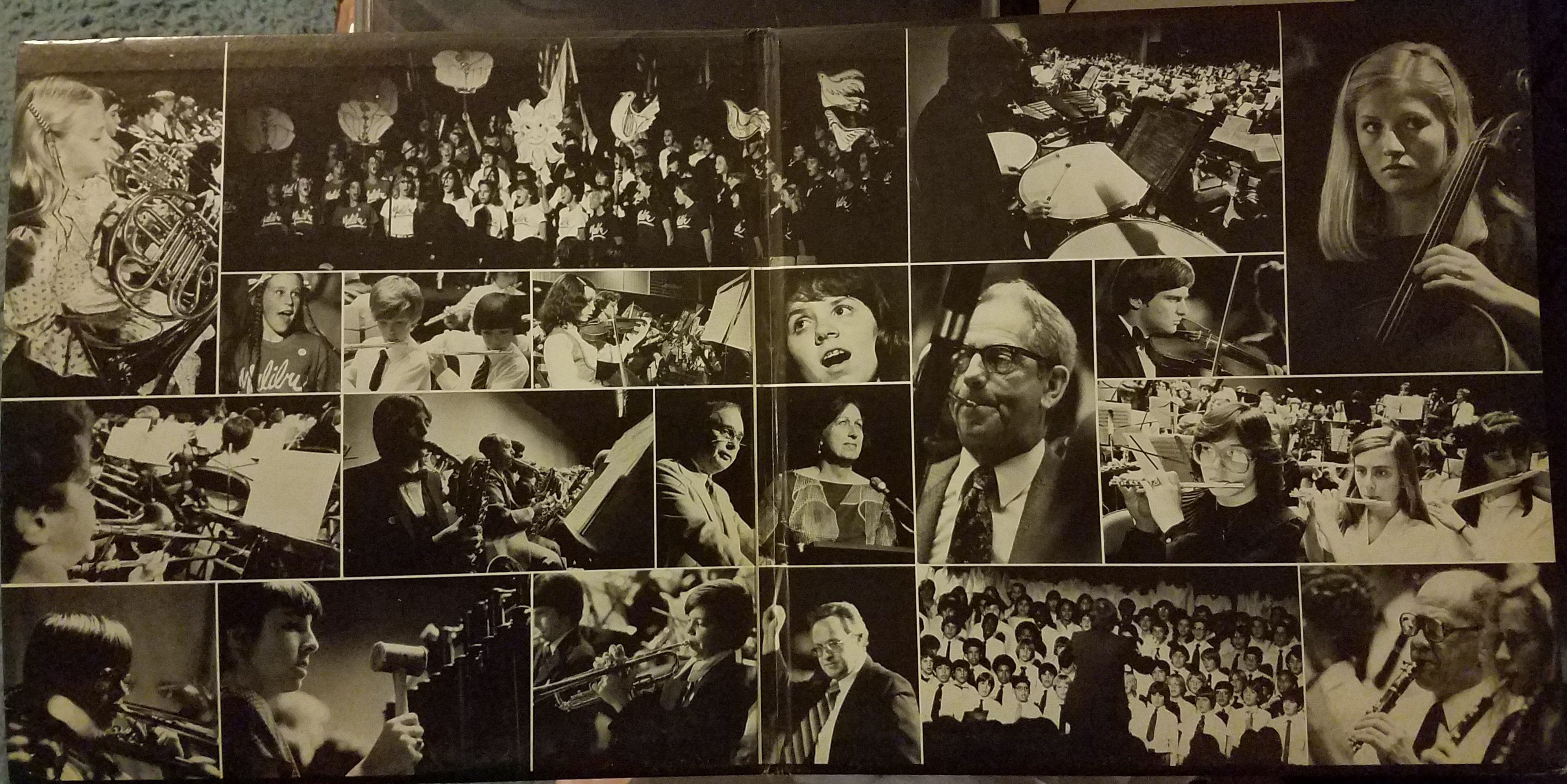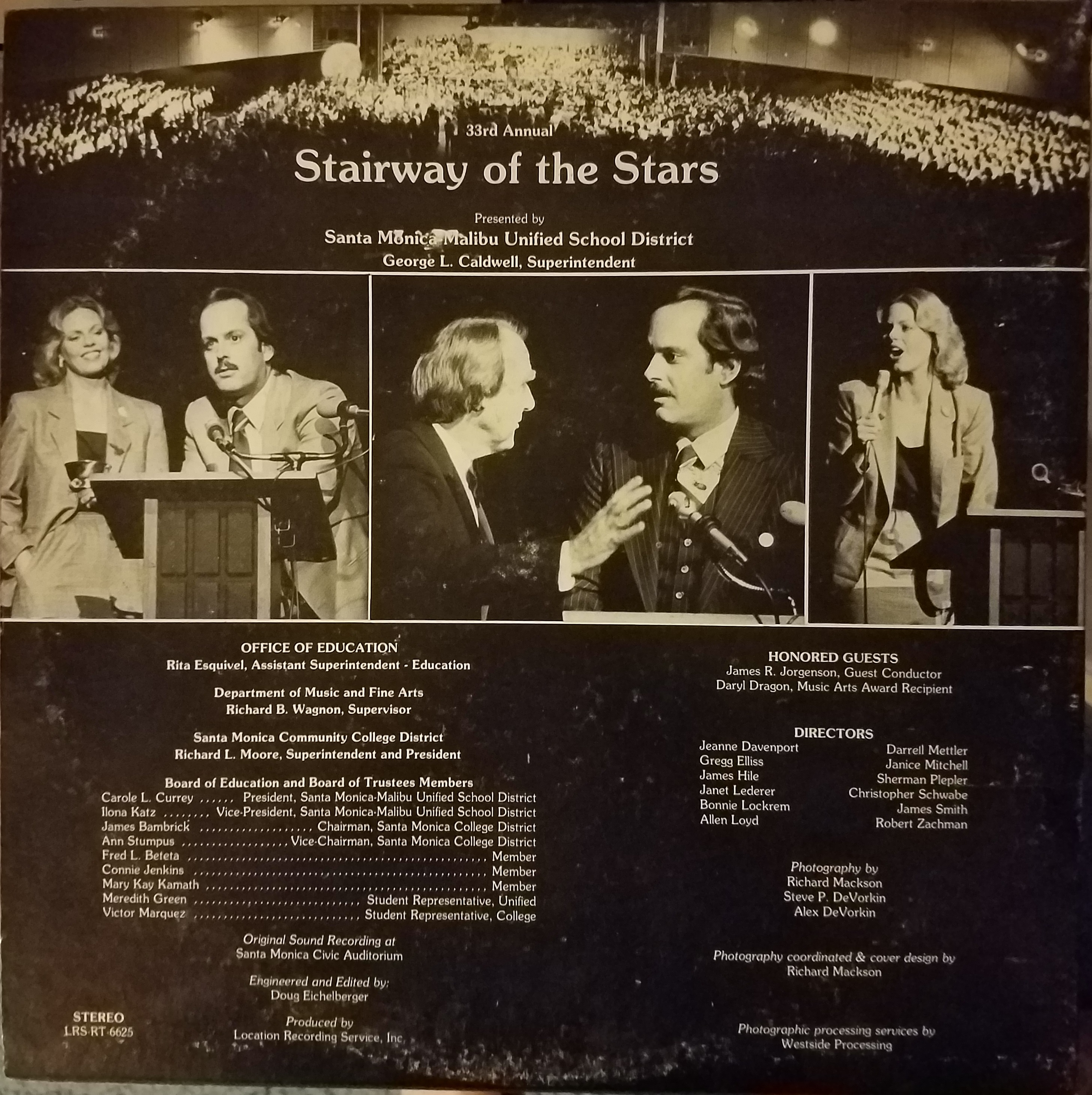 I, Roger M. Wilcox, sang tenor in the High School Choir on this program.
Side One
Richard B. Wagnon, Conductor
1. Star-Spangled Banner (1982), by Francis Scott Key
2. Stairway to the Stars (1982), by Malneck and Signorelli, arr. Tony Fox
3. Welcome (1982), given by Dr. George L. Caldwell, Superintendent of Schools, and Carole L. Currey, President, Board of Education
Elementary All-School Honor Orchestra
4. Rondo from "Abdelazar", by Henry Purcell. Darrell Mettler, Conductor.
5. Canción Mexicano, arr. Leroy Walter. Sherman Plepler, Conductor.
6. March for Young People, by Dmitri Shostakovich, arr. Ralph Matesky. Robert Zachman, Conductor.
Elementary Chorus – Juan Cabrillo School
Bonnie Lockrem, Conductor
Accompanists: Sandra Nonhof, Vivian Spurgin
7. The Kids from the Country, by Ruth Artman
8. Here's to the U.S.A.!, arr. Gloria Bolton & Vivian Spurgin
Side Two
Combined Junior and Senior High School Orchestra
1. March from "Scipio", by George Friederich Händel, arr. Woodhouse. Allen Loyd, Conductor.
2. Introduction to Act I Carmen "Toreador Song", by Georges Bizet, arr. Kreichbaum. Lida Beasley, Conductor.
Combined Junior High School Chorus
Accompanists: Pamela Miller, Sunny Sutherland, Shirley Diefenderfer
3. Gloria (from the Heiligmesse), by Joseph Haydn, arr. Woodman. Janet Lederer, Conductor.
4. Linden Lea, by Ralph Vaughan-Williams. Greg Ellis, Conductor.
5. Choral Selection, Man of La Mancha, by Mitch Leigh. Jeanne Davenport, Conductor.
Side Three
Presentation of Award
1. Introducing Daryl Dragon, by Carolyn Farnham, Chairman, Symphonies-by-the-Sea
4. Love Will Keep Us Together (or at least the first verse thereof), by Daryl Dragon. Performed by the Captain & Tennille.
Santa Monica High School Chorus
Janice Mitchell, Conductor
Accompanist: Anne Rogat
5. Im kühlen Maien (In Cool May), by Hans Leo Hassler
6. She's Like the Swallow, Canadian folk song, arr. William Lock
Combined Junior High, High School, and College Band
7. Overture for Winds, by Charles Carter. Jon Moryl, Conductor
Side Four
Combined Junior High, High School, and College Band
1. Selections from Barnum, arr. Robert Lowden. James Hile, Conductor
2. "Sound Off" March, by John Philip Sousa. Christopher Schwabe, Conductor
Finale
James R. Jorgenson, Conductor
Combined bands
3. Strike Up the Band, by George Gershwin
4. Slavonic Folk Suite, by Alfred Reed
Combined choirs, orchestras, and bands
5. From Sea to Shining Sea, by Samuel Ward, Bates, and Whitney
6. Stairway to the Stars - Reprise
---
Click here to go to Roger M. Wilcox's Stairway digital audio rescue index.
Click here to go to Roger M. Wilcox's main digital audio page.
Click here to go to Roger M. Wilcox's home page.
Send comments regarding this Web page to: Roger M. Wilcox.